Celebrating Advancement and
Innovation in Manual Therapy
HOW ONE WORLD CLASS DOCTOR SINGLE HANDEDLY
CHANGED THE GAME OF TRIGGER POINT THERAPY

Over the decades there were many advancements, and innovations in all verticals in the world of manual therapy.
It's hard to pinpoint any particular because they're equally important for us...
...equally important in our common goal to alleviate pain without the use of of harmful opioids and invasive methods, where they're unnecessary.
This mission that we all share in some way - created a lot of research, medical data, business, jobs, and therapy styles -
Most importantly, it created the general feeling among the population that they're in good hands (pun intended) when it comes to their health.
This in return created an unstoppable wave of manual therapy treatment accepted in almost every household to some degree.

Not just in America, but in Europe, South America and the rest of the world. The numbers don't lie.
As it seems to use, we're winning.
Today we want to celebrate one individual that contributed to the advancement of Manual Therapy, and delighted many chiropractors, physical therapists, massage therapists and athletic trainers.
His drive towards excellence in practice got him to conceive, design and make, arguably the most advanced, but at the same time one of the most simplest tools for the whole Manual Therapy community.
His name is Dr. Toto Blase!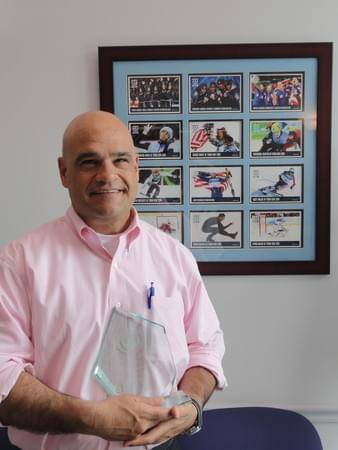 His CV is as long as CVS receipt, and his achievements are many in the field of Manual Therapy.
He was named Sports Chiropractor of the Year 2011 by the American Board of Chiropractic Sports Physicians...
...and served as a member of the USA Olympic Medical Team at the 2010 Winter Olympic Games in Vancouver.
Just to name a few achievements.
I don`t know about you, but to me that sounds like a bad a** doctor.

He designed and produced two tools, the T-Ball Trigger Point tool and T-Blade Soft Tissue manual therapy tool.

Both of them were initially designed to help him and his patients enjoy the benefits of manual therapy.

For him, it's all about providing effective care and a sense of relief for his patients.
On the other hand, he made these tools out of the necessity. The necessity to give himself relief, and
alleviate the pain he felt after and during giving
treatments with his bare hands.
In the following short interview, we talked about the advantages of T-Ball Trigger Point Therapy Tool,
the reason why he made it and some hurdles
Dr. Toto had to go through in order to make it.

Read bellow...
Interview With dr. Toto Blase

How did you make T-ball trigger point therapy tool,
and what were the primary reasons for doing so?

I came up with idea after having two surgeries on my cervical spine.


I had some weakness in my hand and when I performed trigger point therapy my hand would shake and my neck would hurt. I needed a better way to work.


So I looked around and bought some tools on the market. All of them had
a plastic or rubber tip. I wanted something that was easy to clean with a hard surface.
So I started to experiment with different materials.

Glass, ceramic and steel. Stainless steel worked best.

Next I had to figure out the handle.
I wanted something ergonomic for the handle with a soft grip.

I contacted many companies in the USA, but no one would work with me.

So I found a German company who make the best ergonomic handles on the
market and they were willing to work with me. I sent them the specifications
and it all came to fruition as the T-Ball we have today.

What's the advantage of the T-Ball Trigger Point Therapy Tool
overother similar tools, and over bare hands?

It will save your hands and thumbs while providing exact pressure to relieve trigger points.It is different from other products out there because it is easy to clean,has an ergonomic cushioned handle and because of the hardness ofthe steel ball.
Dr. Toto - If you had to summarize T-Ball trigger point therapy
tool in just few short sentences, what would you say?

That`s easy.

T-Ball allows you to easily apply just the right amount of pressure and zero in on trigger points. The T-Ball is utilized for localized muscle work such as Trigger Point Therapy.

The T-Ball is German engineered -designed to relieve pressure on the fingers and hand during use. Patients commonly comment that they can't tell the difference between the T-Ball and their chiropractor's thumb.

Do you have any words of praise for your tool, coming from
other Manual Therapy Professionals?

Of course. Here are couple of reviews that we received over the years.

T-Ball Trigger Point Therapy Tool Testimonials

"I have used the T-Ball and like it a lot! Used it several times and feel it's a great addition to my treatment toolbox. Only tool with the 'Ball' configuration, as compared to other flat surface instruments, that works great for specific myofascial release. Simulates finger contact and saves the practitioners hands! A must for every manual therapists tool box!"
Dr. Iselborn Sports Chiropractor of Iselborn Chiropractic & Sports Medicine; Chiropractor for Jacksonville Jaguars; USA Olympic Medical Team, London 2012

"Fast, efficient and saves your hands from over working."
Philip T. Santiago Chiropractor for OMT in Barcelona

"Finally! A myofascial tool that provides safe, efficacious results for the patient and is ergonomically kind to the practitioner! I have been using it daily and getting great results. Thank you Dr. Toto!"
Steve Horwitz, DC1996 US Olympic Team Chiropractor, Atlanta

"The T-Ball allows me a comfortable grip, which makes it easier for me to control the pressure that I need to use. I use less force to attain the same result and it reduces the strain on my neck."
Jake Loarca P.T.Total Rehabilitation llc

How To Get T-Ball Trigger Point Therapy Tool?
How Much Does T-Ball Costs?
After this whole story, you're probably thinking that the T-Ball Trigger Point Therapy Tool will cost you an arm and a leg!
When it was presented to us, we were thinking that too.

We thought it costs at least $150/piece, judging by the quality, expertise and Dr. Toto's previous customer reviews.
And Dr. Toto has all the rights to ask $150 for it.
After all, T-Ball makes you a better care provider which your patients will recognize, and it saves your hands like no other
tool on the market.
But no, dr. Toto won't ask $150.
Not even $100 - And not even $80
Trigger Point Therapy Tool - T-Ball will cost you only $59.99.
Yes, you've read it right, ONLY $59.99!
BUT, if you order right now Dr. Toto
will give you the sweetest deal ever.
Sweetest Deal Ever -
You will pay only $39.95 for it and on top of that we're sliding in with the additional 5% OFF if you enter the coupon code SPECIAL
at checkout.
That's steal of a deal that we've got for you here.
Get it now while it's fresh on your mind.
Allows you to easily apply just the right amount of pressure and zero in on trigger points without overworking your hands and fingers.

The T-Ball is utilized for localized muscle work such as Trigger Point Therapy. Also used for foot reflexology/massage etc.

German engineered soft grip ergonomic handle, designed to relieve pressure on the fingers and hand during use.

Patients commonly comment that they can't tell the difference between the T-Ball and their chiropractor's thumb. They say,

"Right where you thumb is." - And it's the T-ball.

Easy to clean as eyeglasses, as hard to break as a hammer.
No Risk, 100% Money-Back Guarantee!

If you love it, keep It! - If it's not what you're looking for, return it within 30 days, postage-paid, and you get your money back!

No questions asked

We're confident you'll love the results!

BLASE J . TOTO

D.C. , D.A.C.B.S.P.